Van Den Driessche handed 6 year mechanical doping ban
Belgian cyclocross champion Femke Van den Driessche has been banned from the competition for six years by the UCI after a motor was discovered in one of Wilier bikes at the U23 cyclocross world championships in January.
The suspension runs from October 11 2015 to October 10 2021 and all of her results during this period will be nulled – the main ones which will be removed are the U23 European Championship and the U23 Belgian Championship.
Ven den Driessche has been ordered to return all prize money and medals that she has acquired as a result of victories since October 2015 along with paying a fine of 20,000 Swiss Francs – which equates to £14,000.
The motor was discovered during routine checks by the UCI using magnetic resonance technology – similar to MRI machines – to detect things such as motors and battery packs that can be hidden in the frame.
The Vivax motor was concealed in the seat tube along with the battery and powered a gear which turned the cranks. The Vivax motor is able to generate up to 200W of power for a sustained period of between 60 and 90 minutes which is a significant advantage in a cyclocross race. The motor was found to be activated using a bluetooth switch which was installed underneath the bar tape on the handlebars.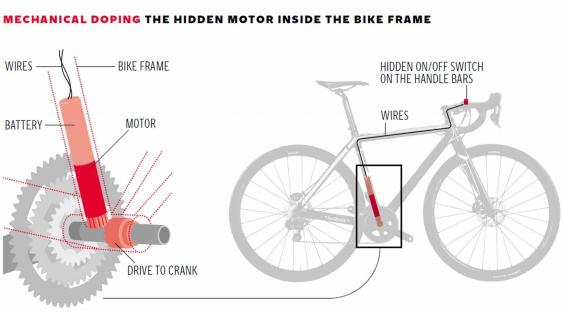 The Vivax system is commercially available and can be fitted to most frames, although the cost is around £2,000. The advantage to motorised bikes is that when they are not in use the rider can pedal normally with no extra resistance, allowing them to use the motor to assist pedalling on the hills. They are however, not designed for use during competitive events.
The UCI is clamping down on mechanical doping after a serious of allegations in all levels of races in both road and cyclocross races this year,
Wilier have been quick to distance themselves from the incident, confirming that they only sell framesets and have never sold a bike that has been equipped with a motor.